Delaware Stars is Delaware's Quality Rating & Improvement System (QRIS). The Delaware Department of Education is working with state leadership to revise the state systems that support early childhood. We will continue to share information as it is available. In the meantime, we are continuing to accept applications for Delaware Stars, to support you in your quality improvement efforts.
Programs that have been enrolled in Delaware Stars and have been rated at a star level 3 or higher are eligible to receive tiered reimbursement in addition to Purchase of Care reimbursement for children and families receiving subsidy.
To help programs estimate reimbursement payments, tiered reimbursement rates are listed below.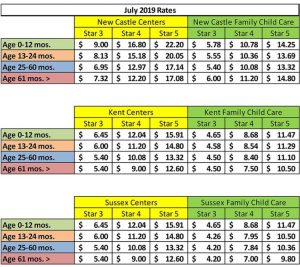 All inquiries related to tiered reimbursement should be sent to tiered.reimbursement@doe.k12.de.us