Our professional learning experiences are focused on equipping leaders with the skills required to manage a successful organization in areas such as recruitment and retention, marketing, and fiscal management.
We understand that these topics can be overwhelming for professionals with backgrounds in early childhood, but we got this together. Each professional learning experience includes follow-up coaching, either individually or in a group setting.
Our professional development coordinators teach these skills and then work with administrators to implement these practices in a way that makes sense for their program.
Click here for more information about selecting professional learning experiences and planning your professional development.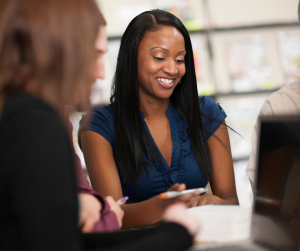 Creating a mission helped my program a lot. It helped align with my personal core values, with my program, and with my staff. We have our mission statement written down, we can all see it and be reminded of it. It does work!
– Mariam Banoub, Owner/Administrator Bright Kidz Learning Center (Developing Your Mission Statement PLUS)
Register today for one of our Professional Learning Experiences
We are offering professional learning experiences that are delivered in various formats to meet your needs. All our professional learning experiences include a continuum of learning and support activities.