Welcome to Coach's Corner!
Coach's Corner is a blog dedicated to providing fresh ideas for your practice. Meghan Julia Pallante is our featured blogger and provides new content on a monthly basis.

Meghan has been a technical assistant at DIEEC for ten years and holds a master's degree from the University of Delaware in Human Development and Family Studies.
Browse some of our recent topics
Children's Book Week – Incorporating Math Into Literacy and Other Learning Experiences
November 2022
This month at DIEEC, we celebrated Children's Book Week (CBW) by visiting early childhood education programs throughout the state to read to children and deliver books to their classrooms. It was so nice to be able to come out and read after COVID put CBW on hold for 2 years. Our theme for 2022 was incorporating math concepts into literacy. All of the books we chose had math concepts embedded in them. These concepts included counting, patterns, comparison, and more.
Many times we think of math and literacy as separate concepts but this does not have to be the case! Many of the skills that we want children to learn are all intertwined. Foundational math concepts are needed in everyday life and are an integral part of early childhood education.
Math Concepts in Children's Books
Introducing math concepts through books is an easy way to spark children's interest. There are many books with obvious math themes but there are also books that, at first glance, you may not realize are teaching math concepts! Below are some examples of books to add to your library:
Infants
Ten Little Fingers & Ten Little Toes by Mem Fox
Baby Touch and Feel: Numbers by Dorling Kindersley, Inc.
Toddlers
Ten Tiny Babies by Karen Katz
Bears on Chairs by Shirley Parenteau
Round is a Tortilla by Roseanne Greenfield Thong
Owl Babies by Martin Waddell
Preschool
10 Little Rubber Ducks by Eric Carle
My Granny Went to Market by Stella Blackstone
Inch by Inch by Leo Lionni
School-age
Counting on Frank by Rod Clement
The Eleventh Hour: A Curious Mystery by Graeme Base
When introducing these books to the class, consider adding activities that go along with the concepts in the books!
Math Around the Classroom
In addition to enhancing your library with math concepts, take a look at your activity areas to see where you can incorporate math!
Block area– This is a great spot to combine math and literacy with play! Add books about building or construction, or add pictures of famous buildings/structures. Children can try to replicate the pictures while counting and measuring the blocks.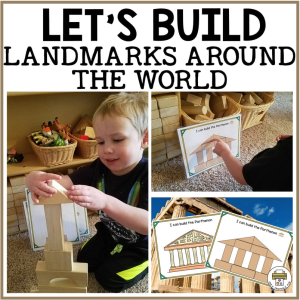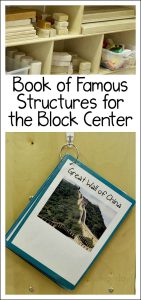 Fine motor toys– Any fine motor activity can be adapted to include math by incorporating patterns. For example, children can make patterns with any type of connecting toys.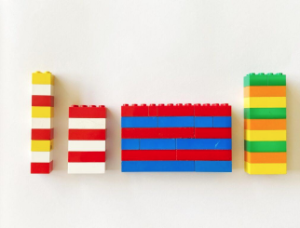 Art center– Consider adding rulers or shape stencils to the art center. Children can measure and figure out how tall they want to make their drawings.
Dramatic Play– There are many ways to add math to dramatic play. One idea is to create a store. Add a cash register, play money, calculators, and a pencil and paper to make lists. You can use the same materials to create a restaurant!
Infants and Toddlers
Math may seem like a skill that would mostly be used with preschoolers, however, there are many ways to incorporate math concepts into your infant/toddler program. Gather a few objects such as balls or stuffed animals. Talk about which ones are "bigger" and which ones are "smaller". During diaper changes, count the baby's fingers or toes. Another concept to work on is sorting. Have toddlers sort items such as blocks, stuffed animals, cars, etc. into different containers.
There are so many ways to incorporate math into your program. Always keep in mind that math and literacy concepts go hand in hand. Both are important for future life skills. Above all, provide activities that are fun and hands-on. We would love to hear about how you are teaching math concepts in your program or how you have used the books from Children's Book Week!
Resources:
Math & Literacy- The Perfect Pair (NAEYC)
One, Two, Buckle My Shoe: Math and Literacy for Preschoolers (Reading Rockets)
Help Your Child Develop Early Math Skills (Zero to Three)
Professional Learning Experiences:
Explore STEAM with Making and Tinkering PLUS (Hybrid-in person & Zoom)- DIEEC